Home Insurance in Hastings, NE & Fairfield, NE
Protecting Homeowners in Hastings and Fairfield, NE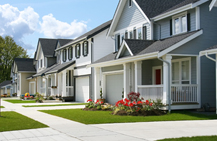 Home ownership can be very satisfying, even fun. It comes with risks however, and these risks can cause damages that result in large financial losses. Fire, wind, theft, and personal injuries are all among the risks that homeowners face, and each risk can result in high out-of-pocket costs. To avoid these costs, homeowners can purchase home insurance, which not only minimizes repairs, replacement costs, and living expenses but provides general protection against loss and provides far-reaching security.
At Insurance Plus, Inc. we have an all-encompassing home insurance program through which we write broad and flexible policies. We tailor these policies to the individual needs of clients and ensure that these policies provide the greatest value.
Coverages tailored to you
Home insurance provides protection for dwellings and personal property and it protects against liability, the costs of medical payments, and loss of use. For most homeowners, this protection is enough, and finding the right home insurance solution is just about finding the best mix of coverages and costs. However, these homeowners frequently overlook details that can lead to coverage gaps and ultimately hefty losses. At Insurance Plus we work closely with clients to identify every potential exposure and ways to protect against these exposures. The result is that the policies we write provide complete protection and keep policyholders secure.
We're an independent agency so we work with a number of different carriers, each of which adds to the diversity and expansiveness of our coverage collection. This collection enables clients to customize their insurance packages, and customization is a key to finding the right solution. The coverages from which you can choose include:
Determining which endorsements to include in a policy and limits, rates, and deductibles is something that we'll do as we work collectively with you develop your policy. We'll help you find coverage combinations that help you save money and we'll help you identify benefits and discounts that also help you save money. One way to save is to combine homeowners insurance with other types of insurance, including auto insurance. To learn more about how to make these combinations, see our home & auto insurance page.
Finding a Solution with Insurance Plus
We've insured homeowners in Southeast Nebraska for decades, so we know the demands of home ownership in the region and we know how to meet these demands. We also know local markets and we stay abreast of trends that affect coverages. As a result, we deliver optimal solutions and we deliver these solutions expediently.
We provide more than insurance as we give each client ongoing support and serve the clients in other ways. We're always available when we're needed and we manage risk and claims. We reduce exposures to manage risk, and this helps keep clients' costs low. We advocate for clients to manage claims, and this helps clients achieve suitable resolutions. These and other efforts are ways in which we enrich our clients' insurance experiences and make our clients' insurance investments more valuable.
To learn more please contact us or give us a call. You can also request a quote if you'd like to find out some of the details of a policy.
Insurance Plus is proud to provide home insurance in Hastings, Fairfield, Juniata, Glenvil, Edgar, and Roseland, NE. We also serve other areas in the state.
---